Welcome to bioinfweb.info
This is a central site which provides an overview of all BioInfWeb projects. Currently this are a number of software projects developed by Ben Stöver and/or Kai Müller. Additionally a central site that defines the XML formats used by BioInfWeb projects is provided.
Quick links
Latest news
See all news

RSS feed

 Twitter

 Follow @bioinfweb

2017-08-30: bioinfweb repositories on GitHub
The source codes of now six
bioinfweb
software projects are now available on
GitHub
. The repositories of
TreeGraph 2
,
JPhyloIO
,
LibrAlign
,
bioinfweb.commons.java
,
AlignmentComparator
and
TIC
are from now on synchronized with
GitHub
.
Feedback and pull requests are welcome.
2017-08-21: bioinfweb Projects on ResearchGate
Our scientific software projects now each have their own ResearchGate page. Follow the projects to receive updates on new releases, features and publications. Each project also contains a section to ask questions about the software.
The following project pages are now availabble:

2017-06-26: Version 2.14.0 of TreeGraph released
A new version of our phylogenetic tree editor can be downloaded from
http://treegraph.bioinfweb.info/Download
.
2017-05-22: New article published
Our article Barré P, Stöver BC, Müller KF, Steinhage V:
LeafNet: A computer vision system for automatic plant species identification
was published in Ecological Informatics.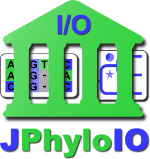 2017-05-13: Version 0.4.0 of JPhyloIO released
A
new version
of our library for reading and writing of phylogenetic file formats through one event-based interface was released.